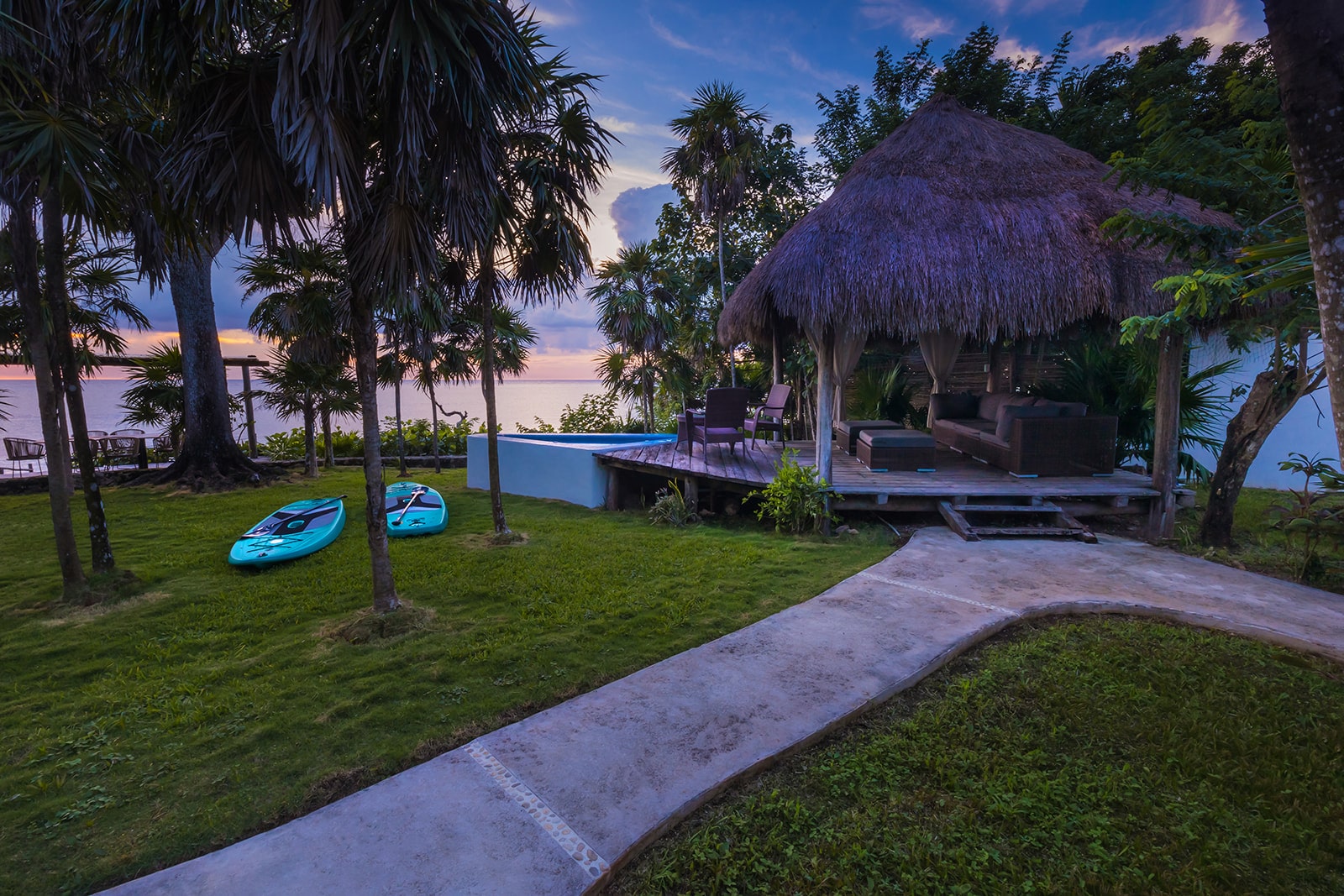 Imagen de WhatsApp 2023-08-21 a las 16.33.44
Imagen de WhatsApp 2023-08-21 a las 16.33.37
Villa Eden is a luxurious villa located in Cozumel, offering an exquisite experience for those seeking an unparalleled oceanfront getaway. With a 40-foot pool, a deck with easy access to the crystal-clear waters of the ocean, and furniture sourced from all over the world and the local area, Villa Eden provides a unique blend of comfort and elegance.
The open living room and kitchen area create a seamless space for relaxation and entertainment, with stunning views of the ocean from every room in the villa. The villa boasts 5 bedrooms, each with its own en-suite bathroom, ensuring privacy and convenience for all guests.
For those who love panoramic views, the rooftop of Villa Eden offers breathtaking vistas of the Caribbean, perfect for soaking in the stunning surroundings. The villa also features a lush garden with a 40-foot pool, a palapa, and lounges, providing a serene oasis for relaxation and leisure.
For water enthusiasts, Villa Eden offers snorkeling and dive boat pick-up right at the villa, allowing guests to explore the underwater wonders of Cozumel with ease. Additionally, the villa offers the option to rent a 36-foot Fjord boat at a discounted price, complete with lunch and drinks, for a memorable excursion to the clearest waters and beaches in the area.
To elevate the culinary experience, Villa Eden offers an optional private chef service, available part or full-time, allowing guests to indulge in delicious meals prepared by a skilled chef in the comfort of their own villa. For ultimate relaxation, guests can also unwind in the Jacuzzi overlooking the Caribbean, enjoying the soothing sounds of the ocean.
With its stunning amenities, breathtaking views, and unparalleled location, Villa Eden is a true haven for those seeking a luxurious and unforgettable vacation experience in Cozumel.
High-speed wireless internet
Pool, pool, and garden maintenance
daily cleaning service
Fully stocked refrigerator upon arrival (upon request for a fee)
Luxury towels and sheets
Beach towels
bathroom basics
filtered drinking water
Nespresso coffee machine
Optional kitchen service
Optional luxury boat rental for up to 12 people
Air-conditioning
Wired flat screens
Free kayak and some with paddle board
Ashely Memory mattresses
Above all, thank you for considering us for your vacation. In return, we will do our best to make it amazing!
Standard: $1,100
High season: $1,200
Christmas: $10,000 entire home, 7-night minimum
New year: $12,000 entire home, 7-night minimum
Rates begin as low as $850 per night, hosting up to 4 people.
Each additional person is $65 per night up to the maximum number of people per villa.
19% tax is not included in all rates.
Weekly stays will receive 5% off of the price to be reflected at checkout.
Christmas and New Year's rates are the same for any size group.